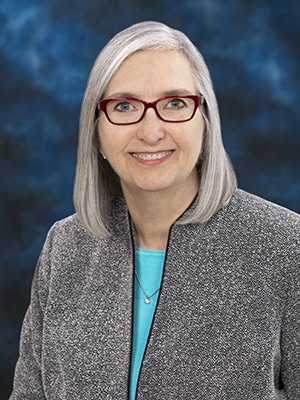 Mrs. Marla Moody
Vice Chancellor for Finance
MBA, Drury University
BS, Missouri State University
Office: IC203G
Phone: 417-447-4835
Marla Moody was appointed Vice Chancellor for Finance at Ozarks Technical Community College in November 2004. Mrs. Moody manages all financial aspects for the college. These responsibilities include oversight of the preparation and continued support of a multi-million dollar budget, all financial records and receipts, college and OTC Foundation investments, financial administration and compliance management of grants, and more. Her responsibility includes the entire college system: three campuses, two education centers and OTC Online.
Under her financial direction, OTC added its second and third campuses, in Ozark and Hollister, and two education centers, located in Lebanon and Waynesville. These centers all aimed at making the college more geographically accessible. As CFO at OTC, she has overseen a vast expansion of its real estate and programs and is responsible for more than $180 million in annual revenue. In September 2017, Standard & Poor's raised its credit rating for the college to AA, thanks to the district's consistent and balanced operations, as well as planned revenue growth.
During her time at OTC, Mrs. Moody has also provided leadership in the development of OTC's online registration & payment system and has directed the college's e-commerce initiatives including payroll direct deposit, an online student tuition payment plan and the OTC student SmartCard ID and disbursement system. She currently serves on the college's Project Management Team overseeing the long-range planning and management of the college's ERP system.
Mrs. Moody serves on the national Board of Directors of Community College Business Officers, the NelNet Community College Advisory Board and the Board of Directors of Girl Scouts of the Missouri Heartland, currently serving as Board Treasurer. She is a member of the Missouri Community College Association Presidents/Chancellors Council and Association of Governmental Accountants. In 2010, Ms. Moody was the recipient of CCBO's Outstanding Chief Financial Officer – Region III, and has served as the President of Board of Directors for the Educational Community Credit Union and the Accounting & Financial Women's Alliance.
Marla Moody joined Ozarks Technical Community College in 1997 as Controller. She quickly established a high standard for financial accuracy and success in the business office. In 2002, she moved into the position of Dean of Finance. And, in 2004, she was appointed CFO. The made her the first woman to serve on the Chancellor's Cabinet in a senior executive management role. Prior to joining OTC, Mrs. Moody worked at Missouri State University in the Financial Services Department. With a Bachelor of Science in Education (Accounting emphasis) from Missouri State University and a Master of Business Administration from Drury University, she contributes over 34 years of public higher education experience to student and college achievement.