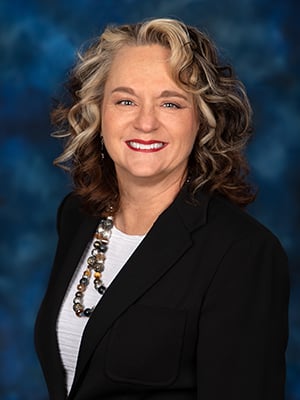 Ms. Sharon Day
Chief Financial Officer
BS, Missouri State University
Phone: 417-447-7603
Ms. Day serves the college as chief financial officer (CFO). In this role, she is responsible for managing the college's financial affairs including strategic financial planning, fiscal accounting and grant services. She also oversees budget development and annual audits as well as analyzes funding and evaluates the college's business operation systems. As CFO, she serves as assistant treasurer to the OTC Board of Trustees and the OTC Foundation.
Ms. Day previously served OTC as associate vice chancellor for finance. As associate vice chancellor, she oversaw fiscal management of grant awards, the OTC Foundation, the college's investment portfolio and developmental strategic planning.
Before coming to OTC, Ms. Day served as executive vice president/CFO for Metropolitan National Bank from 1997-2016 where she was responsible for executive oversight of finance, I.T., human resources, deposit operations, and facilities and project management. Before that, she practiced public accounting from 1991-1997.
Ms. Day earned a Bachelor of Science degree in accounting from Missouri State University and attended the Graduate School of Bank Investments and Financial Management at the University of South Carolina. She has also been a Certified Public Accountant since 1993.
Ms. Day is an active community leader, serving several Marshfield community organizations including the Girl Scouts, Optimist Club and the American Cancer Society's Relay For Life. Other accomplishments include being named Springfield Business Journal's Most Influential Woman in 2014 and graduating from the Chancellor's Leadership Academy.
She and her husband, Noel, share a blended family of four children and four grandchildren.