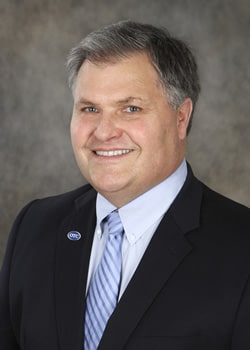 Greg DeLong
Member
Greg DeLong was appointed to the Board of Trustees on October 11, 2011, to complete the term of founding Trustee Don Clinkenbeard; he was elected to a six-year term on the Board in April of 2012.
Raised in Jefferson City, Mo., Mr. DeLong earned a B.A. from Westminster College in Fulton and a M.B.A. from the University of Missouri in Columbia. He is a financial advisor in Springfield and has built his business from scratch starting in August of 1986 after making the decision to leave his family business, DeLong's, Inc., to pursue his own career.
He currently serves as the Finance and Insurance Division Chairman of the 2014 United Way Campaign Cabinet, the Missouri State University Department of Finance and General Business Advisory Board, and the Ozark Greenways, Inc., Advisory Committee. He previously served as President of the Ozark Greenways, Inc., Board of Directors. Mr. DeLong is also an associate member of the Greene Co. Estate Planning Council.
Mr. DeLong's parents, Joe and Betty Jo DeLong, impressed upon him and his family the importance of community service, education, and job creation, among other values. His parents raised three other children who also earned degrees from the Missouri public university system. Joe and Mozelle earned law degrees from the University of Missouri in Columbia; Jim earned a mechanical engineering degree from Missouri S&T in Rolla. Mr. DeLong believes his service as a Trustee honors his parents' example by helping students in his native Ozarks gain skills to find employment.