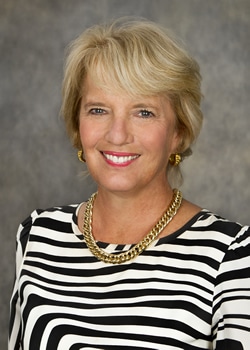 Jennifer Kennally
Member
Jennifer Kennally retired in 2014 as president and CEO of United Way of the Ozarks. Her association with OTC began in 2010 when the Middle College asked her to serve on their advisory board.
"That experience is what fostered my passion for OTC. The Middle College program provides at-risk students with innovative learning opportunities that result in bright futures."
In 2014, the OTC Board of Trustees elected her to fill the term of founding board member, Jackie McKinsey.
"I continue to feel very blessed to be able to serve this jewel in our community. I know firsthand how OTC improves lives."
Jennifer is active in the community by working part-time in resource development for Ozark Trails Council of the Boy Scouts. She also serves on the boards of the Springfield Art Museum and Mercy Health Foundation.
Jennifer had a successful 28-year career in not-for-profit management. She has served as president of the Mercy Regional Foundation, executive director of United Way of Johnson County, Kan., and executive director of the Greene County Unit of the American Cancer Society. She was also president of both the Kansas and Missouri associations of United Way.
Born and raised in Springfield, Mo., Jennifer graduated from Parkview High School. She then earned a degree in art education from Texas Christian University in Fort Worth.  She has two daughters who reside in Kansas City. Lauren, a landscape designer, is married to Todd Mackin, and Kate, a recent Kansas State graduate, works for United Way of Greater Kansas City.