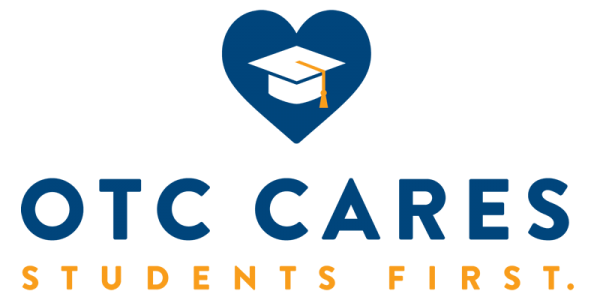 OTC Cares exists to promote the wellness of every OTC student.
Collaboration throughout the OTC system that puts students first is the heart of its success. Now, OTC Cares is broadening its reach to serve as an umbrella for a college-wide understanding of student-centered care. All aspects of college operations will be challenged to remove barriers for students, wherever they are found. OTC Cares outlines a comprehensive commitment, dedicated to holistic student supports and student-first operations, strategically informed by data.
From the day an applicant expresses interest in OTC to the day a student reaches their educational goal, they experience barriers to their success. Whether these barriers are small or significant, the OTC community has always been deeply committed to replacing barriers with opportunities. This foundation has guided the college through some of the most significant challenges our students, faculty, staff and community have faced. These challenges have highlighted our innovative spirit, the resilience of our employees, and our commitment to serve our students and communities with care and excellence. This college-wide culture and fabric of operations is the foundation of OTC Cares.
PILLARS OF CARE
Our college community has embraced these guiding principles to remove barriers for students and to work collaboratively to put our students and communities at the center of everything we do.