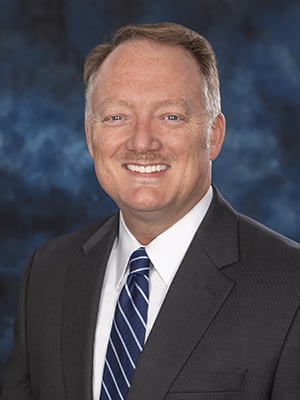 Mr. Rob Rector
Vice Chancellor of Administrative Services
BS, Missouri State University
Phone: 417-447-4852
Rob Rector joined Ozarks Technical Community College as the Vice Chancellor of Administrative Services in May 2008. He brought more than 20 years of property management and retail experience with him.
Mr. Rector is responsible for all administrative aspects of the college, including the OTC Bookstore and retail auxiliary services, construction, Safety & Security, Maintenance and Custodial, Purchasing, the Fitness Center and more. During his time at OTC, the Administrative Services team has worked with other college department teams to increase measures of safety for students and the community as evidenced through the FEMA shelter at the OTC Richwood Valley Campus, the implementation of part-time law enforcement officers at all campuses and centers, and the implementation of a red alert system and OTC Cares. Mr. Rector and the Administrative Services team have also played an integral role in the construction and opening of the OTC Table Rock Campus, the OTC Lebanon Center and the OTC Waynesville Center.
Prior to joining OTC, Mr. Rector spent approximately 20 years in shopping center management.  His experience includes the renovation and remerchandising of Springfield's own Battlefield Mall. He continues to be an active participant in his community through membership in the City Utilities Citizens Advisory Council, the Jordan Valley Advisory Committee, and the Urban Districts Alliance. Mr. Rector has also served on the Board of Directors for the Springfield Area Chamber of Commerce, the Convention & Visitors Bureau and the Ronald McDonald House Charities of the Ozarks. He holds a Bachelor of Science degree in Marketing from Missouri State University.