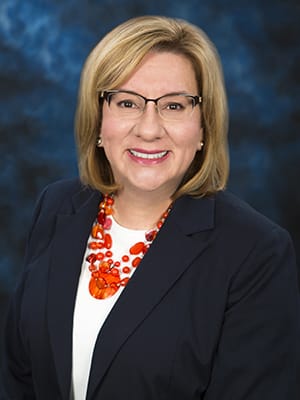 Joan Barrett, Ed.D.
Vice Chancellor Student Affairs
Ed.D. Lindenwood Univeristy
M.P.A. Missouri State University
B.S. Missouri State University
Office: Springfield Campus ICW219G
Phone: 417-447-6914
Dr. Joan Barrett currently serves Ozarks Technical Community College as the Vice Chancellor for Student Affairs. As the Chief Student Affairs Officer, Dr. Barrett reports directly to the Chancellor and provides leadership as it relates to issues of enrollment management and student development.
Dr. Barrett began her career in 1996 and has served OTC in a number of capacities in Student Affairs. Prior to serving as her current role, Dr. Barrett served as the Dean of Students, College Registrar, with time also spent in financial aid and academic advising roles. In collaboration with the Chancellor, she is currently responsible for the oversight of a number of student support services at OTC.
Throughout her career, Dr. Barrett has considered access to higher education for those seeking to make education a priority, her goal. Additionally, the necessity of retention and completion initiatives, require community college leadership that appreciates the whole student. It is through recruitment, career planning, advising and financial aid that students seek assistance and where connections are often made. Additionally, there are opportunities through the Dean of Students office, using Code of Conduct violations as opportunities for great personal growth and retention.
Dr. Barrett has taught online for OTC and has served as an adjunct instructor in the Higher Education master's program offered at OTC Springfield through Lindenwood University.
Dr. Barrett holds both a Bachelor of Science degree and a Master of Public Administration degree from Missouri State University. Vice Chancellor Barrett recently completed her doctoral studies in higher education leadership with Lindenwood University. Dr. Barrett is married to Michael, a longtime employee with Springfield City Utilities, and has two children, Ben and Madelyn.