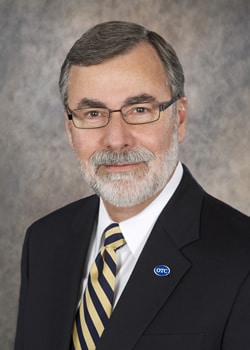 J. Howard Fisk
Member
J. Howard Fisk was elected to the Board of Trustees in April 2008. He has been an active member of the Springfield community for more than three decades. This commitment to service began with his service on the Bicentennial Celebration Commission in 1976.
Mr. Fisk is a graduate of Missouri State University. The owner of Fisk Limousines, which has been in business for more than 30 years, Mr. Fisk still finds time to currently serve on more than 25 community and industrial organizations. Some of those boards include the Boy Scouts of America in a variety of capacities, the Girl Scout of America Board, the Juanita K. Hammons Center for the Performing Arts advisory board, the Historical Preservation Society of Springfield and Greene County, the Glendale High School site council, the Springfield-Branson National Airport Board, the Springfield Convention & Visitors Board, and the Springfield Area Chamber of Commerce.
Community service is, and always will remain, an important part of his life. He continues to contribute to the community he is helping build for his children and grandchildren.
Mr. Fisk believes that OTC provides southwest Missouri with its most valuable economic development resource: a well-educated and well-trained workforce.
He believes it is the community's responsibility to provide students and the current workforce access to a quality education that is diverse and matches the needs of our region. The programs and services at the college can enable the diverse student body to be contributing members of the region's economy and productive citizens.